On this insanely hot (for Seattle) weekend, where did I find myself? In the cool, frosty, freezers of Exotic Meats. I stocked up on wild boar bacon, wild boar patties, duck sausage (not smoked this time) and caribou patties. I also checked out the Indian grocery store next door where I discovered the best snack product ever made: Mung Dhal Crunch (deep fried mung beans). Ughhgg.
Later that night I had a few people over for wild boar teriyaki burgers. Per the suggestion from Exotic Meats, I pressed a pineapple ring into one side of the wild boar patties and fried them up. A slice of Swiss cheese was added and it quickly turned into a gooey, yummy melt. A little bit of mayonnaise on a lightly toasted whole wheat bun, a dab of homemade teriyaki sauce and just to take it one, wholly unnecessary step further… a few slices of wild boar bacon.
As you can probably guess, it was incredible. We were all doing the food dance.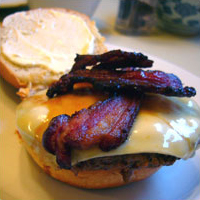 Teriyaki Sauce
1/3 cup reduced sodium soy
1/3 cup mirin
1/3 cup sake
2 tablespoons sugar
Reduce everything over medium-high heat until syrupy and delicious.