(printer friendly)
Serves 6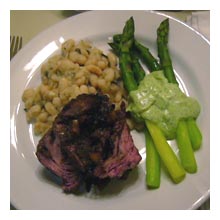 1 cup prunes, diced
1 cup cognac or brandy

4 tablespoons butter
1 cup coarse fresh breadcrumbs

2 tablespoons olive oil
1 onion, chopped
3 cloves garlic, minced
1 tablespoon rosemary, chopped
1/4 cup mint, chopped
1/4 cup parsley, chopped
1/4 cup pine nuts, toasted
salt & pepper

3 to 3.5 pounds boneless lamb shoulder, fat trimmed


1. Preheat oven to 450°F.

2. In a small saucepan, heat the prunes and cognac over low heat and simmer for 15-30 minutes, until the prunes have absorbed all the cognac.

3. Melt butter in a skillet over medium heat. Add the breadcrumbs and toast, stirring, occasionally, until golden and crisp.

4. In a medium skillet, heat 1 tablespoon of the olive oil over medium heat. Add the onion and garlic and cook until soft, then let the mixture cool.

5. In a large bowl, mix together the prunes, onions and garlic, 1/2 tablespoon of the rosemary, mint, parsley, toasted breadcrumbs and pine nuts. Season the stuffing with salt and pepper. Cool mixture to room temperature before proceeding.

5. Season lamb on both sides with salt and pepper, then mound the stuffing across the middle of the lamb. Roll lamb up and tie into a compact roast. Poke any stuffing that falls out back into the roast.

6. Put lamb on a rack in a roasting pan and rub with the remaining tablespoon of olive oil and the remaining 1/2 tablespoon of rosemary.

7. Roast lamb for at 450°F for 30 minutes, then reduce oven to 350°F and roast for another 45-60 minutes or until the center of the roast reaches 160°F. Watch roast and if it starts to burn on the outside cover with tinfoil.

8. When lamb is done, remove it from the oven and let it rest, covered with foil for 15 minutes. Slice lamb and serve!