(printer friendly)
One of my all-time favorite salads! Serves 6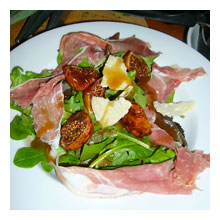 2 large bunches arugula
6 fresh firm-ripe green or purple figs
6 to 8 large thin prosciutto slices
Parmigiano-Reggiano (about 1/3 pound)

Megan's Salad Dressing (found in recipe file, under salads)


1. Discard stems from arugula and wash thoroughly. Transfer leaves to a large bowl and mix with the salad dressing.

2. Trim tough stem ends from figs and cut each fig into 8 wedges.

3. Halve prosciutto slices lengthwise.

4. With a vegetable peeler shave thin slices from Parmigiano-Reggiano.

5. Mound arugula in center of each of 6 plates. Arrange prosciutto pieces in a ring around each mound of arugula, overlapping ends to secure. Arrange figs and Parmigiano-Reggiano shavings on and around salad.