consumed 5/9 – 5/12/12
Mom came to Los Angeles for a visit and we did lots of good eating…
Thurs AM: Woke up early and made mom Maple Bacon Pancakes – a great and easy mix from Bacon Freak.
Thurs PM: Scored last minute dinner reservations at Mozza. Our awesome waitress steered us right, starting off with burrata, leeks & charred bread and affettati misti with gnocco fritto: prosciutto wrapped around breadsticks packed with truffle butter, beautiful cuts of house-cured speck, pancetta, and sopressata eaten with pillow-y, fried potato puffs. For mains we had a delicate, light & buttery halibut with ramps and Ricotta & Egg Raviolo with browned butter.
Fri AM:  Loteria Grill  at Farmer's Market: CHILAQUILES in poblano mole with eggs. What? Yes.
Fri PM: Kyochon Fried Chicken, pickled daikon, orange butter rice (made in my donabe), and a mango/strawberry galette.
Sat AM: Beautiful, light and crisp fish and chips at Malibu Seafood.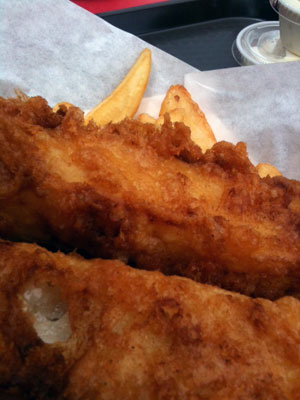 Activity highlights included: RadioLab @ UCLA, Felix in Hollywood walking tour, and sea lion watching at Point Dume