I was intending to take it easy this month. I promised myself something simple, like pasta and a salad. Of course my imagination ran away from me and kept going and going, like that little pink Energizer bunny.
It all started with my main dish. I really wanted another roast leg of lamb—it's just so easy and impressive. This time I found a beautiful, Moroccan Spice-Rubbed Leg of Lamb recipe on Epicurious. When an Epicurious recipe has that many glowing reviews, I feel confident that the recipe will turn out well. So completely ignoring my first rule of thumb for dinner parties, I proceeded with an untested recipe. Now one untested recipe is usually okay, but since I've had zero experience cooking Moroccan cuisine, I ended up with an entire menu of untested recipes. Typically this turns out one of two ways: a complete and total disaster or, much less often, amazing.
With a Moroccan theme nailed down, it was an easy leap to couscous for a side dish. Of course I didn't want to make just any couscous; I wanted to make proper couscous. One that's been steamed multiple times, with each grain lovingly separated by hand. I found the perfect thrice-steamed couscous recipe in the Chez Panisse Café Cookbook. Even though the recipe sounded elaborate and time consuming, it didn't send out any alert bells because everything I've made from the Chez Panisse Café Cookbook has been exquisitely delicious.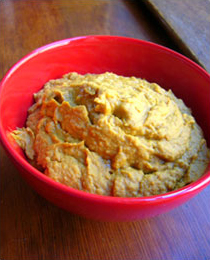 For the veggie I wanted something colorful (since everything thus far was brown). Moroccan carrot salads kept popping up in my research and I narrowed it down to one. The winning recipe was chosen because of its use of asafetida. Asafetida (a.k.a. "Devil's Dung") is known for its pungent, rotting smell. I've had a jar of asafetida languishing in the cabinet for a few months now and every time I open the door, the smell knocks me down and assertively reminds me that I need to cook with it. (In case you're keeping track: new recipe #3).
The typical Moroccan appetizer is Bastilla, which is a savory-sweet phyllo concoction, but it looked too time consuming. Nothing else caught my eye until I started looking at Egyptian dips and spreads, which changed my dinner theme from Moroccan to North African. Du'a (or Dukka) is an intriguing mixture of ground nuts and spices that is used like a dip for bread (new recipe #4) and for my second appetizer I chose an Egyptian Fava Bean Dip (Foul Mudammes) solely because I've been obsessed with fava beans lately.
Some of the more traditional Moroccan desserts seemed difficult to make and most of them were deep fried (and couldn't be made ahead of time). I started thinking about phyllo dough and the nutty, sweet, layers of baklava, and as if to reinforce this choice a few people had randomly told me that it's quite easy to make. I did more research and discovered that there is an Egyptian version of Baklava, which is similar to the Greek except for the omission of honey and the addition of orange blossom water (new, and final, recipe #6).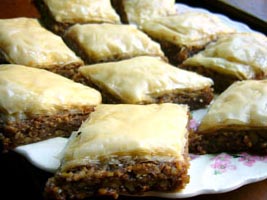 Two nights before the party, I'm dripping with melted butter and swearing at the phyllo sheets that refuse to come apart, trying to remember who it was that told me making baklava was easy. I have little patience (or skill) when it comes to making desserts, so choosing to make baklava was a little like playing Russian roulette. After more than three hours of assembly and baking, I pulled the baklava out of the oven. On a whim, I had doubled the amount of nut filling so they were chock-full, but they were gorgeous! In fact, so gorgeous that I didn't automatically swear off making them ever again, like I usually do.
The night before the party I picked up a beautiful five pound leg of boneless lamb from A&J Meats, which went straight into a Ziploc with the so-simple-to-prepare-I-wonder-if-it's-any-good marinade. I also assembled the carrot salad so that it could marinate overnight. I wanted to give the salad a face lift, so I hand shredded raw carrots into long strands on my Japanese benriner; they were infinitely prettier than uneven hunks of carrot. I also made quick work of the two dips in my food processor. The Du'a nut mixture was driving me crazy (in a good way) because it was so fragrant while toasting and the fava bean dip barely made it to the party; I couldn't stop eating it. It was creamy and luscious from the combination of fava beans and olive oil, and the curry tomato flavor was undeniably addictive.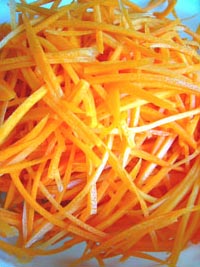 This left the roasting of the lamb and couscous preparation for the day of the party. Unfortunately, the couscous was decidedly more complicated than I ever could have imagined. This was mostly because I don't own a couscous steamer (a.k.a. a couscousiere) and had to assemble a makeshift one. And by makeshift, I mean really makeshift. The idea is to steam the couscous over flavored water three times, fluffing and separating the grains between each steaming. In order to steam properly, you need a tight seal between your water source and your couscous holder. I took a large pot and fit my largest colander inside. It was a perfect fit, except the colander touched the bottom of the pot. Excellent for boiling, not so good for steaming.
I tried a variety of items to lift up the colander and finally settled on a large biscuit cutter, but this left a huge gap at the top. I had read the proper way to create an airtight seal is to take a tea towel, soak it in a flour and water paste and mold it into place; I did the best I could with foil. This may seem like common sense, but I would like to point out that it's important to watch the water and make sure it doesn't boil over. I ended up with a bottom layer of gummy couscous and a stove stained bright yellow from turmeric. Luckily the ruined part of the couscous congealed into a solid mass so it was fairly easy to remove and discard.
The party started off great with the guests bringing a surprising array of cocktails from all around the globe. We had a wonderful twist on a Caipirinha (Brazilian), which was made with cachaça and a mint infused simple syrup. We then moved on to the all-American fuzzy navel. The best cocktail of the night (and maybe closest to being Moroccan) was a concoction of strong brewed mint tea, pomegranate juice, mint simple syrup and vodka. It was incredibly refreshing and the perfect summer drink.
The appetizers were a huge hit—despite the fact that my stove top went out and I couldn't fry the pita breads. Oddly enough, this was a blessing in disguise because as I waited impatiently for the burner to heat up I realized that the pita breads I had bought the day before were moldy! I happened to have also purchased Lavash flat breads so no one was the wiser.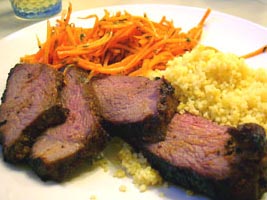 After cocktail hour we sat down to dinner. The broiled lamb was cooked perfectly and sported a nice brown crust. The lamb was juicy and tender and the flavor was outstanding. None of the marinade ingredients stood out on their own, but blended together they were complex and complimented the lamb. Despite the pains I went through for the couscous, I have to say it was worth it. Steamed couscous is an entirely different animal than boiled couscous. It's light and fluffy with fully separated grains perfumed with the barest hint of turmeric and coriander. The cold carrot salad had a great crunch and a wonderfully exotic flavor (luckily asafetida tastes much better than it smells). Dessert was easy and delicious, albeit a bit messy. The baklava were flaky, sticky, sweet and fragrant with orange blossoms.
So six for six. Never before have I been able to successfully turn out that many new, untested recipes in one night. And not only did each recipe turn out well individually, but as a whole, the meal came together beautifully. The colors, textures and flavors were well balanced and had enough of a similar thread to tie them all together—and at the same time were unique enough to not be boring. I seem to be saying this after every Hostess Project party, but… this really was the best one yet. Either I'm getting better and better at this Hostess Project thing, or I'm damned lucky. I like to think it's a little of both.