I'm only two months into my dinner-party-a-month pyramid scheme and I'm realizing it's actually quite a bit of work. On any given week I'm either planning, cooking, cleaning or writing about a dinner party. This has led me to two conclusions: one, I need to plan easier, lower-key parties and two, I need to buy a dishwasher.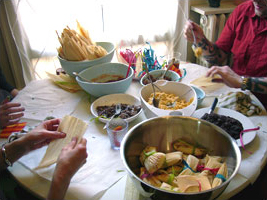 For my third event I wanted to make everything ahead of time and also have the guests help out. A tamale making party fit the bill perfectly so I started researching recipes. I already had a favorite Pork Adobado recipe that I knew would make a fantastic filling, and I easily found a beef recipe. For a modern twist, I came across a recipe for duck confit tamales with cinnamon and anise. The recipe sounded amazing and it also gave me the opportunity to prepare duck confit, which has been on my must-try-making list for a few years now. To take a break from all the meat and round out the menu, I went with a vegetarian option for the final filling.
Once I had the tamale recipes picked out, I started looking at sauces. I know tamales aren't typically served with sauce, but I wanted to have a backup in case the tamales turned out to be dry or bland. Mole has also been on my must-make list, but I discovered it takes a laundry list of ingredients—and that didn't fit into my easy party plan. I then came across prepared Mole Mayordomo from Melissa Guerra. The Food & Wine product endorsement won me over and I placed an order for a jar of Mole Rojo and a jar of Mole Negro.
In my tamale research, I came across a great site that has many tamale making tips, which is where I got the idea to dye cornhusk strips and use them as tamale ties to differentiate between the four fillings. The only problem was that the cornhusks seemed a tad waxy and didn't soak up much color, so I ended up using almost straight food coloring. They were brilliant and beautiful, but I wasn't quite sure how they'd hold up to steaming.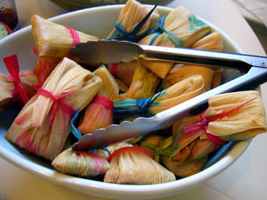 I decided to make and freeze the pork and beef fillings in advance, so three weeks before the party I went down to the market to pick up ingredients. My first stop was El Mercado Latino, where I purchased Maseca Masa Harina, dried cornhusks, and ancho, pasilla and New Mexico dried chilies. Then I paid a visit to Don & Joe's Meats and picked out a beautiful pork shoulder roast and a beef shoulder roast. I also pre-ordered the duck and duck fat I needed for the confit. They tried to convince me to buy their pre-made confit, but I wasn't biting. It's more expensive to make it yourself, but I've always been disappointed with packaged confit and find it to be dry and leathery with a strong, disturbing liver taste.
The following weekend, I went back down to Don & Joe's to pick up my duck and duck by-products. The duck legs turned out to be from Hudson Valley Foie Gras and were gorgeous. When I got home I spent a few minutes just looking at them with giddy lust. As I started the confit recipe, I kept thinking that it called for a lot of salt, but I figured it was one of those dishes that slowly cooked in a crust of salt. When the duck came out of the oven, it was glistening with duck fat and perfectly golden. I sliced off a still hot chunk and popped it in my mouth. I promptly spit it back out and ran to the faucet for water. It was disgustingly salty. I opened my Bouchon Cookbook and pawed through the pages until I got to the confit recipe, which clearly stated that it's very important not to oversalt the duck (Keller even weighs the legs to assure a proper salt-to-meat ratio). My heart sank as I realized that Keller's confit recipe called for less than one tablespoon of salt per leg, whereas I had used more like a quarter cup. After a few hours of cursing and pouting, I returned to the kitchen to taste the confit again, this time taking a chunk from the middle of the thigh; it was slightly better. I spent the next hour begrudgingly scraping off the ruined outer layer of meat from each leg.
For the vegetarian filling, I had chosen huitlacoche—a type of corn fungus that is considered a delicacy in Mexico. A few years ago huitlacoche was all the rage in Seattle and I was intrigued by this so-called "Mexican Truffle". But a week before the party I ran across a post that made huitlacoche sound less than appetizing (okay, downright disgusting). I did more research and found an article on Gourmet Sleuth, which said, "The Aztec named this dark growth found on corn, huitlacoche which translates (rather bluntly and literally) to 'ravens excrement'". Hmmmm. I pride myself on being a good hostess, and in part, that means not subjecting dinner guests to something I'm not even sure even I would eat. I decided to skip the huitlacoche and replaced it with a tamer Oaxacan tamale with pumpkin, chili and black bean recipe.
The day of the party, I made a roasted tomato salsa and a wonderful tomatillo and avocado sauce. I also prepared the mole by mixing it with tomato puree and a little bit of chicken stock—it tasted surprisingly good considering it came from a jar. For the masa I had read that using lard is key for proper-textured tamales, but I also found that using a KitchenAid really helped whip up light and airy batches of masa.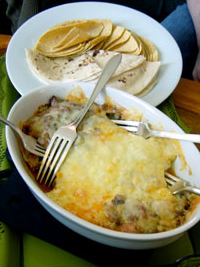 Zach came over early and made Queso Fundido con Chorizo—an easy and thoroughly addictive appetizer of melted cheese eaten with fresh flour tortillas. Zach also wanted to make horchata, which is a non-alcoholic drink made from water and rice. Zach liked the horchata, but I suspect he was the only one. Horchata is something of an acquired taste/texture/sight and not many people were adventurous enough to try it; and those who did stopped after one glass. By the end of the night, the pitcher was not only still full, but also congealed into a solid, glutinous mass.
J brought a beautiful and refreshing salad with jicama, oranges, watercress, strawberry and cilantro. K brought a sangria that was packed with fruit, but low on sugar, which I loved because sugared sangrias leave me with screaming hangovers. B brought rum and coke, which I found hilarious, because I haven't drank those since high school. But then I discovered they are really delicious if you use a conservative hand with the rum (something I never did in high school).
I only had enough room in my kitchen for four people at a time, so guests took turns assembling the tamales. There were arguments over how to stuff them properly and my tamales were bursting at the seams, but in the end they all looked gorgeous. I was really glad I had made the colorful ties, but the downside was that they stained everyone's fingers a brilliant blue. (I thought this was funny, but some guests were not so amused.)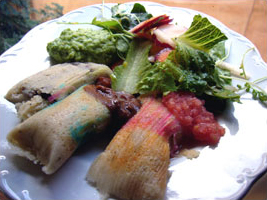 After we had assembled a batch of tamales, I started the steamer and cooked them for an hour. When they were done, I noticed the ties had bled through the cornhusks and had colored the tamale dough. Luckily it looked pretty and festive. Surprisingly, my absolute favorite turned out to be the duck. Once combined with the masa, the confit didn't seem as salty and had a great, pure duck flavor. I also liked the texture of the confit, which was more solid and substantial than the shredded fillings. Almost everyone else liked the pork adobabo best. The meat was incredibly tender and had a wonderful, light, spicy-sweet chili flavor. A few people swore by the vegetarian ones because the pumpkin changed the texture of the masa and made it incredibly soft and delicate—not to mention an absolutely beautiful color. We all decided that the best combo would have been the pumpkin tamale dough with the pork filling. The beef tamales were good, but the others were so outstanding that the beef got left in the dust.
We ended the night with Dulce de Leche topped with whipped cream and toasted walnuts. Zach and I first had this dessert at The Pink Door about a year ago. Zach is a huge caramel fan so I asked the waitress how it was made and she sheepishly told us it was condensed milk boiled in a can. I did some research and found that this is a favorite dessert among campers and girl scouts; it's really as simple as boiling an unopened can of condensed milk in water for about 5 hours. The perfect dessert for my easier-the-better theme.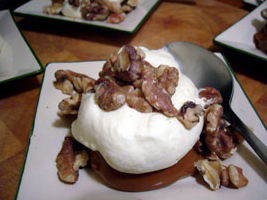 All in all it was a successful night; everyone had a good time and the food was delicious. But somehow these "easy" parties leave me yearning for the seven-course, wow-the-pants-off-your-guests dinner parties I used to throw two or three times a year. Don't get me wrong, I love the idea of hosting a dinner party once a month, I'm just saying that it's an ambitious goal and there are trade-offs. If I'm to maintain my sanity for the next year, I have to stick with the easier and make-ahead menus.
Lastly, I have to admit that on the whole, this pyramid dinning scheme hasn't been very successful. I've only received one return dinner invitation so far. And come to think of it, I actually ended up bringing all the food. I'm starting to think that this scheme has a very long gestation period. Good thing it's a labor of love.