After reading Nancy Leson's review of elemental@GASWORKS, I decided it would make a perfect Date Night restaurant. It sounded tricky to get a table, so I told Zach I'd pick him up right after work and we'd head over early to make cocktail hour and wait for a table. We got there at 5:30pm, but all of the 6 tables were already taken. The woman chef looked up as we walked in and gruffly told us that they were full until 9:30pm. I asked if we could put our name on a list or if we should just come back. She said "No" and then returned to cooking. I looked at Zach wondering why on earth this place got such favorable reviews. The man at the counter quickly explained that "No" meant they didn't have a waiting list, but "Yes" we should come back. We left upset and hungry.
Once we were in the car, we debated whether or not to come back later for dinner. My vote was no, because I tend to hold a grudge when someone is that rude—especially in the restaurant business. But Zach tends to be more rational and convinced me we should still give it a try. We headed to Sambar for a cocktail and to kill some time.
Sambar always has unusual and fantastic seasonal drinks, so I was excited to try something new. I ordered a mango batida ($9), which was packed with sweet mango flavor—although it was a little hard to suck through the straw. Zach had a tamarind daiquiri ($9), which was tart, tangy and refreshing. It was made with dark rum, tamarind puree, brown sugar, ancho chili and Grand Marnier.
We also ordered a Croque Monsieur ($5) and the Navarin Printanier special ($14.50) because we knew we wouldn't last until 9pm without a snack. The Croque Monsieur was the perfect example of what a ham and cheese sandwich should be. It was buttery and crisp, but not greasy, with just a thin slice of ham and the perfect amount of gooey, melted cheese. The Navarin Printanier (spring lamb stew) was divine—a rich and silky stew with hunks of tender, tender lamb and spring vegetables. It came in the cutest little cast iron pot, but it only held about a half cup of stew. It was really expensive considering the portion size, but also so amazing and worth it. This is kind of the theme at Sambar. Everything is delicious and of excellent quality but it's also very pricey, so after our cocktail and snack we decided to head somewhere less expensive for a second cocktail.
We ended up at Jitterbug in Wallingford, where they serve my favorite cocktail: The Pomegranate Splash. It's made from pomegranate molasses, Ketel One, lemon juice (from 1/2 a lemon) and a splash of simple syrup, then served in a martini glass rimmed with sumac sugar. It's tart and sweet and delicious. We hung around as long as we could, but by 8pm we were really hungry and decided to head back to elemental.
When we arrived I think the owners were both shocked to see that we came back. There were two seats open in the "lounge" area where we sat and had yet another cocktail while waiting for a table. We asked the owner/bartender/waiter to surprise us with drinks because we were in the mood for something unusual. Zach ended up with a Becherovka and tonic, which was bitter but delicious. It had a strong smell of cinnamon, which I loved. I had a "Jersey Lily" which was made with Chartreuse, bitters and brandy. It was good, but I have yet to develop a true love for brandy.
A few minutes after we received our drinks we were seated at a table and looking over the menu. You can order from a selection of plates ranging in price from $5 to $16 or for $35 you can order three plates from three different price ranges. Some of the menu titles were a bit cryptic, but we didn't ask for details because we wanted the surprise.
Our first course was the lamb tongue and salmon mousse. The salmon mousse was light and airy with a great salmon flavor and served with perfectly toasted crostini. I really enjoyed the mousse, but Zach found it to be somewhat tame. The lamb tongue was eyes-rolling-back-into-the-head amazing. It was braised in Madeira and red wine for about 45 minutes until it was tender and succulent. It was served with pistachios and a hunk of buttery brioche.
The second course was a crab cake and mussels with chorizo and pepper. The mussels were plump and sweet with a deliciously hot broth ("pepper" turned out to be jalapeño). I was disappointed in the chorizo because it was more like plain sausage and was lacking the taste and dark red color that comes from ample paprika. The crab "cake" turned out to be a wedge of crab cornbread and it was good. It was slightly sweet and flavored with bits of crab. It was served with a creamy and rich avocado cream that was a perfect match.
Our last course was meatloaf and pig in blankets (guess which one I ordered). The "meatloaf" was made from veal and foie gras. As you can probably assume, it was the best meatloaf that either of us have ever eaten. Or even dreamed about. It had a wonderful, soft texture and was so decadent. My dish paled in comparison, but was still tasty. It was moist, pulled pork tucked into tender crepes and served with a bright red ancho cherry sauce that was slightly sweet and slightly hot.
When we left, it was really, really late and we were stuffed to the point of being uncomfortable, but we were glad we had come back. Or we were just really drunk. I'm not sure which.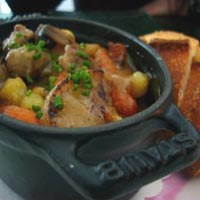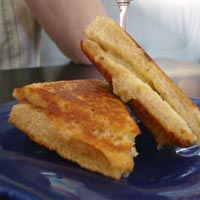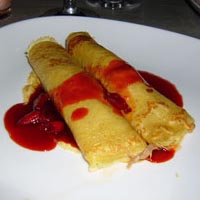 Elemental

Sambar