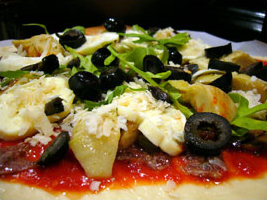 I may have overcommitted myself. I'm trying to make up for it by combining as many events and obligations as possible. I asked Zach if he'd mind having his birthday double as The Hostess Project monthly dinner party article. I'm lucky he's such a good sport.
I asked him what his favorite food was, fully expecting to hear "sushi" and already planning a Japanese / sushi rolling party in my head. When he said "cheese" I was thrown off guard. Cheese? Whose favorite food is simply "cheese"? I quickly regrouped and started planning a meal where every course included cheese. Maybe cheese flans from The French Laundry Cookbook for an appetizer, Fontina ravioli with porcini sauce for a first course, steaks with Cabrales butter for the main course and a mascarpone cheesecake for dessert. At some point I realized that I was planning this party for myself. I asked Zach what he wanted and it was quite the opposite—something casual, fun and for a large group of people. I nixed the menu and rethought the party.
Zach and I had recently made mozzarella, which seemed like the perfect party activity. I thought about what I could make with mozzarella and then it hit me: pizza! It would be easy, fun AND take care of those pesky vegetarians. The best part was that I could make almost everything ahead of time.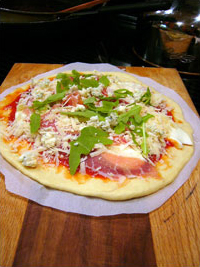 Gathering the list of pizza toppings was easy: sautéed shrimp, caramelized onions, sautéed mushrooms, roasted garlic, oven roasted tomatoes (the best thing you could ever hope to do with anemic, store-bought tomatoes), Italian sausage, chorizo, pancetta, prosciutto, pepperoni, olives, artichoke hearts, capers, pineapple slices, gorgonzola, goat cheese, parmesan, red onions, basil, arugula, chili pepper flakes, anchovies and sweet fried peppers.
I made a double batch of my favorite pizza sauce recipe two weeks before the party and tossed it in the freezer. Then I started on crust research. It seemed that most recipes were fairly similar: flour, yeast, honey, and water, with just slight differences in measurements and technique. When I need a tried-and-true recipe and don't have time to experiment on my own I always turn to Cook's Illustrated. I buy online access to their recipe database and at $24.95 per year it has more than paid for itself in usefulness. Cook's Illustrated had three pages of pizza dough recipes, but I was instantly drawn to the "Crisp Thin-Crust" recipe. It is made entirely in the food processor and then goes into the fridge to rise overnight.
My next step was obtaining a pizza stone as they are key to getting a crisp crust. The more I read about pizza stones, the more I realized that some are better than others (who knew?). Reviewers were raving about the Pampered Chef baking stones, but it looked like they were only sold through a "Kitchen Consultant," which to me sounded like "Amway"… I went to eBay instead and got a Pampered Chef 13" round for $15. When it arrived it turned out to be brand new!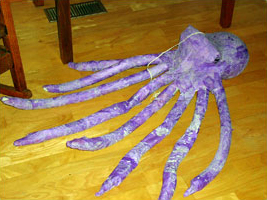 I decided to elaborate on the kid's party theme and make a piñata and a fancy cake. I briefly thought about constructing an elaborate octopus cake (Zach loves octopi), but quickly came to my senses. I'm a horrible baker and have no patience when it comes to cakes. I needed something that was simple yet clever. Zach loves doing the crossword every Sunday, so I decided to make him a crossword cake. And by "make" I mean ask J to bake and frost one of her amazing carrot cakes and then I'd decorate it.
For the piñata I went all out and made an octopus, since balloons can be found in roughly octopus-part-like shapes. It was fun sitting at my kitchen table getting all gooey and wet with flour and water paste. I didn't start early enough on the piñata, so the night before the party I was trying to attach all the still wet parts with masking tape. Not an easy task. It crumpled in on itself, but once I covered it with purple tissue paper it still kind of looked like an octopus.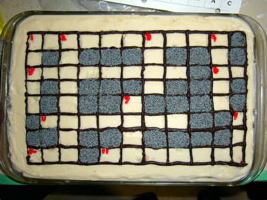 The day of the party, all that was left to do was cook the toppings and decorate the cake. I put off decorating the cake until last because I had no idea how I was going to do it. I knew I was going to make the puzzle lines with chocolate, but I have a hard time drawing a straight line on paper, let alone on a cake. J suggested we press the line pattern into the frosting with long, straight skewers, which worked great. I melted the chocolate and put it into a pastry bag fitted with a fine tip. I think this might have worked out had the chocolate not been old and slightly grainy; the tip kept getting plugged and every inch I'd have to stop and poke a toothpick inside to free it up. I gave up after the first line and just used a Ziploc with the corner snipped off. This worked much better but produced thicker lines.
Next I needed something to fill in the blank squares. I was reaching for the red sugar sprinkles when J spotted black poppy-seeds in the back of the drawer. Perfect! After a debate on how to get the poppy seeds into the squares, I picked up a small funnel, touched it to the cake and filled it with a small amount of seeds. I held my breath and lifted. The seeds spilled out and magically filled the square, perfectly. I like to indulge in moments like this, when a sense of utter competency overcomes me. I awoke from my reverie to J screaming for me to stop because I was filling in the wrong square, but it turned out she was just looking at the pattern upside-down. Whew. A quick and heart-stopping snap back to reality.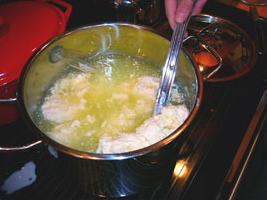 After the cake was done, I had a drink and started mingling with the guests. K and B brought the drinks. I'm not sure what they're even called, but K first had them in Venice and has been serving them ever since she got back. It's a combination of Prosecco, club soda and Aperol (a bitter, sweet orange aperitif) garnished with a green olive. K brought three bottles of Prosecco, but the drink was so popular that all three were gone in the first half hour. Luckily, J likes Prosecco as much as I do and had stocked an extra case.
Once all the guests arrived we started making the mozzarella. Zach measured out all the enzymes that came in my Leeners mozzarella cheese kit. We processed a gallon of milk at a time, adding the enzymes and watching the milk curdle and separate from the pale green whey.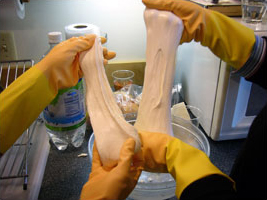 There's something strangely fascinating and beautiful about the process. After twenty minutes, the cheese was ready for stretching and I had two (eager) volunteers don yellow plastic dishwashing gloves. The cheese needs to be ridiculously hot to stretch properly and the gloves help out with the heat a bit. It's really odd and wonderful to see full-grown adults playing like kids and there's something about cheese-pulling that promotes this.
When the first batch of mozzarella was formed I sliced it into thick slabs and served it with olive oil, Casina Rossa truffle salt, roasted tomatoes, basil, and paper-thin slices of prosciutto. The cheese was amazing—smooth and dense but not rubbery. It tasted like the freshest of milk. I loved eating the cheese while still hot, with steam rising off its surface. I found it to be perfect with just a touch of olive oil and a sprinkle of the truffle salt.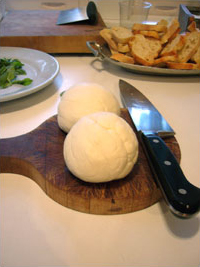 As the day went on and more balls of mozzarella were turned out, we fine-tuned our technique and learned a few things:
A stainless steel pot gives the cheese a better consistency than an enamel coated iron one.
The regular, cheap whole milk that comes in the plastic gallon jugs made better tasting cheese than the fancy, expensive, organic milk.
The first heating of the cheese is essential and needs to be really hot; this gave the cheese a better mouth feel and aided in the stretching.
When people were ready for dinner, I had L & B roll the refrigerated pizza dough onto sheets of parchment paper, per the instructions in the crust recipe. The parchment paper was a lifesaver and made working with the dough a breeze. We slid the parchment-bottomed dough rounds onto plates which guests could then take to the topping table. Once each pizza was topped it was slid, parchment and all, directly onto the hot pizza stone. The pizzas took twelve minutes to bake and then they slid out of the oven and onto wire racks to crisp and cool. I was stunned by how beautiful they all were, like edible works of art.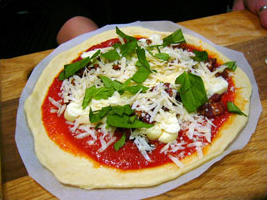 The pizzas tasted even better than they looked. The crust was perfect and shatteringly crisp. It was so good that you actually wanted to eat the crust, as opposed to hiding it under your napkin and sneaking it into the trash. The parchment paper eliminated the need for flour or cornmeal, so the crusts didn't get gritty or dusty tasting which is something I normally hate about homemade pizza crusts. The sauce was a perfect and light base which showcased the toppings—especially the fresh mozzarella. It was great having so many different kinds of toppings, as each pizza turned out unique. My favorite was the prosciutto, Gorgonzola and arugula combination that Zach made. Every pizza that had pancetta on it was a close second.
After dinner, I brought in the cake. I handed Zach a tube of red cake decorating gel and the clue sheet. The clues all pertained to him so he had the puzzle finished in about five minutes, so we didn't have to wait too long to eat the cake. It was incredibly moist and delicious. I loved the crunch of the almonds in the cake and the sweet, luscious cream cheese frosting.
Once the cake was served, the pressure was off and there was nothing left for me to do but entertain. And entertain I did. I caught up with the other guests in the drink department (easy to do because the drinks were so good). To carry on with the kid's party theme, we played "Who Am I" and I instigated a dancing-for-clues rule. Yes, I ended up break-dancing in the middle of my mom's living room floor with a scrap of paper reading "Julia Child" taped to my forehead.