A few weeks ago I read an article about pyramid scheme dinner parties and decided that I was going to try hosting one dinner every month. So when Jessa contacted me about writing a dinner party column for Saucy Magazine, I thought "How perfect!" and immediately signed on. Now that the initial excitement has worn off, I realize just how much work this is going to be.
This was my first "Saucy" dinner party and I was nervous. I wanted a simple menu so that I wouldn't be too exhausted or busy to enjoy the party, but I also wanted it to be fancy enough to be worthy of The First Dinner Party title. I was craving lamb and decided on a roast, since it would be easy to make and wouldn't require much attention during the party. I searched around and found a recipe for lamb shoulder stuffed with cognac prunes. I really love the sweetness of dried fruit with roasted meats, so this was definitely a recipe I wanted to try. For a side, I figured that a white bean dish would be a good and traditional accompaniment for the lamb. I found a simple and flavorful sounding recipe in The Herb Farm Cookbook for slowly cooked white beans mixed with an onion and garlic marmalade and lots of fresh savory and rosemary. For greens I wanted something easy and pretty, so I choose asparagus. When I was a kid, my mom would put a dollop of mayonnaise on my asparagus so that I would eat them; it was so good. I wanted a more elegant variation of this, so I decided to serve the asparagus with an herbed mayonnaise.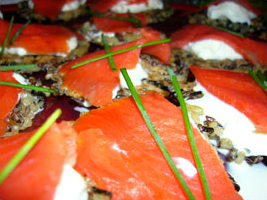 With the main meal set, I turned to appetizer planning. I really love appetizers and would make a meal of them if they weren't so time consuming to make and assemble. Since the meal was somewhat heavy with the beans and lamb, I wanted something much lighter for an appetizer. A while back I had made these wonderful wild rice cakes topped with crème fraîche and caviar. I didn't want to splurge on caviar, but I thought that lox would be a delicious substitute. As a second appetizer I chose a simple smoked trout & arugula recipe that is quick to assemble and tasty.
Now for dessert. I wanted something chocolate and fell back on my standard individual molten chocolate cakes, because they can be made ahead and it only takes 15 minutes to bake them. Plus there's something luxurious about eating a dessert that's still warm from the oven and I figured this would be a good way to end the evening.
I'm not a wine connoisseur and neither are my friends, but luckily there are enough wine stores in Seattle that make good recommendations. So I sent the menu to all my guests with instructions to find a good red that goes with lamb. My boyfriend, Zach, wanted to get a nice port to go with our chocolate dessert, so I told him about Pete's—a tiny little mom and pop store that devotes more that 50% of their shelf space to wines. You can go there and pick up Cheez Whiz, cat litter and a $350 bottle of champagne. Odd, but that's what I like about it.
A few days before the party we went to Pete's and I was happy to see that Joel was working. Joel has, without exception, given me wonderful and perfect wine pairings throughout the years. I just tell him what I'm serving and my price range and he races off through the skinny aisles looking for the perfect bottle. On this visit, the store was unusually busy and Joel was in high demand. After about 15 minutes Joel was finally free and I sidled up next to him, "What do you suggest to serve with chocolate cake?" Joel took off so fast that at first I thought he went to help someone else. He came back with bottle in hand and a grin on his face, "This is what you want." It was $27 bottle of 2003 Domaine de la Rectorie Banyuls "Cuvee Leon Parce". It was a little more expensive than I was expecting, but Zach said he had to get it after such an absolute recommendation; Joel didn't even offer a fallback suggestion like he normally does.
I was trying to be conservative on the money end of things, so I got most of the basics at the local store, but I wanted high-quality lamb. When I want the best quality meat that I can find in Seattle, I go to A&J Meats and Seafood. I pre-ordered the lamb a few days before the party, requesting a three-pound, butterflied lamb shoulder roast. When I went to pick it up I was a little worried because it didn't seem like a lot of meat, but I figured with everything else, I could get away with it. (I have this hang up, which I inherited from my family, that the biggest failure a hostess can suffer is not having enough food for her guests.) The woman helping me commented that lamb shoulder was a slightly unusual request. I said that it seemed like it would be a more flavorful cut than the leg and she wholeheartedly agreed, so we were both left a little baffled as to why the shoulder cut isn't more popular.
The night before the party I was madly cleaning—deciding that my apartment not only needed vacuuming and dusting but a thorough spring-cleaning in order to be Saucy-ready. I had planned to make most of the meal the night before, but after all the cleaning I was exhausted and had managed to only make the bean dish. It seemed reasonable to think I could easily finish the rest of the meal the next day, but from past experiences, I've learned not to trust that false sense of security, because it's always down to the wire. I printed out all my recipes for the dinner and then collapsed into bed.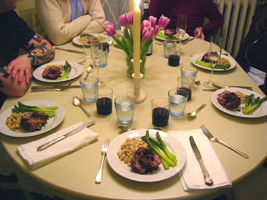 The next morning I woke up early and started cooking. My first task was to make the stuffing because I knew it needed to cool to room temperature before going into the lamb. Normally, smelling alcohol first thing in the morning makes me nauseous, but the smell of prunes simmering in cognac was fantastic and I was getting excited about the lamb. After finishing the stuffing, I tasted it. It was so good. It buoyed my confidence that this was going to be a great dinner party.
I then decided to blanch the asparagus and make the accompanying mayonnaise. Only fat asparagus were available, which I prefer, but I like to peel the stems to make the stalks tender. I have a trick of using brown sugar and lots of salt in the water when boiling green vegetables. I've never heard people mention this before, so I don't know if it's common knowledge, but it should be. The brown sugar makes greens shockingly green. I had to smile when I plunged the cooked asparagus into ice water to stop them from cooking and to set the color. The tips were a deep, beautiful green that gradually turned into a brilliant chartreuse at the stalk—the colors of a perfectly ripe avocado.
I hit my first snag while making the dessert; the chocolate in my cupboard had gone gray. I know that it's okay to still use it in this condition, but when I couldn't remember when I purchased it, I decided I'd be better off with fresh chocolate. Plus I wanted dessert to be exceptional to go with the wine Zach bought. So off I went to the store to get more chocolate. When I got back it was almost 5pm and guests were due at 7pm, so I was starting to feel rushed. I quickly made the chocolate cakes, but made sure to whip the eggs and sugar extra long so that the cakes would be fluffy.
Then I stuffed the lamb so I could get it into the oven by 6pm. It was at this point that I realized why most people purchase leg of lamb. The shoulder cut was very uneven and had holes in some places. I was too hurried to care, so I just stuffed it with as much filling as I could and rolled it up. (I ended up making almost double the stuffing recipe because it was so good, so I really packed a lot in.) The roast suddenly tripled in size and I was no longer worried about having enough food. Now I have seen many PBS cooking shows about how to tie a roast and have studied the Cooks Illustrated diagrams, but I think tying a roast is something of an art. I managed to tie it, but I was struggling with the roast the whole time, wishing I had a second pair of hands. In my defense, I think it was extra difficult because there were so many holes in the meat that stuffing was tumbling out of them. By the time I had it all tied up I had lost half the stuffing, so I pushed it back into the crevices and plugged up the large holes with prunes. I was very proud when I finished. It almost looked like the picture.
At this point I would like to discuss the importance of oven thermometers. It's just a basic fact that oven temps vary widely—and usually the older the stove, the more off it is. I rent and therefore have an oven that's probably older than I am. It's also about half the size of a normal oven, so most of my roasting pans won't even fit into it. After many burnt dishes, I finally got an over thermometer and discovered something interesting. My oven is off by about 50 degrees up until about 375 degrees. Once you turn the dial to anything higher than that, the oven goes berserk and doesn't stop increasing in temperature. Luckily, this evening I had my wits about me and realized 30 minutes into cooking that something was burning. I looked into the oven, and sure enough the temperature was over 550 degrees. Needless to say, the outside of the roast was done. I covered it with foil and then lowered the temp to about 325 degrees to finish cooking.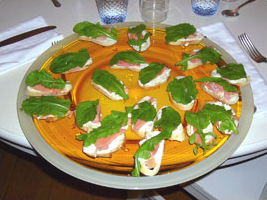 Then I started assembling the smoked trout and arugula toasts. Part of the reason why this appetizer is so good is because of the peppery arugula. Unfortunately, Washington-grown arugula is in a sad state this year. I had been to several stores before I even found arugula and when I did it was wilted and old looking, but I snapped it up anyway. So even though I started with a giant bundle of arugula, I was barely able to pull off enough good leaves for 20 toasts. The first guest arrived just as I finished assembling the toasts and I popped a bottle of much needed prosecco and finally started relaxing. By the time the last guest arrived, I had finished assembling the rice cakes and was in the living room enjoying the party.
The smoked trout and arugula toasts were my favorite of the two appetizers. The toast was cut thin so it was crisp, and then slathered with butter which melted into the trout and the arugula added a hint of spice. The rice cakes with lox were also good, but I found them a bit bland. I think I pre-cooked the rice a bit too long because they weren't as crunchy as last time. Also, I impatiently put the crème fraîche on some of the rice cakes while still warm and the heat melted the crème into a soggy puddle. The lox was great and the chive garnish was pretty, but it was missing bite. Next time I think I'll add a sprinkle of chopped red onion.
The favorite prosecco of the night was a $9 bottle I happened to pick up when I went to get chocolate. It was a Rive Della Chiesa Prosecco Brut, which was really light and dry. By the time we opened the second bottle, a few of us were a little tipsy and were calling it the J-Lo prosecco, but it was actually a Jeio Bisol Prosecco Brut. It was sweeter than the Rive Della Chiesa, but still very good.
When dinner was ready, I had Zach gather everyone into my tiny kitchen nook at my overly large kitchen table. We squeezed in and had to pull the table partially into the kitchen in order to fit everyone around. This ended up trapping me in the kitchen area, but that worked out perfectly for serving. After carving the roast I was ready to plate, but had forgotten to warm the dishes. Thanks to a handy tip from my mom, I put them all in the microwave and they were hot in about two minutes. Everyone was served and eager to eat, but they patiently waited while I took pictures of everything.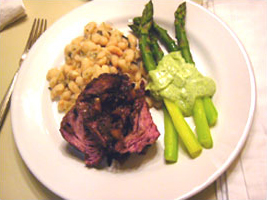 The lamb was perfect. It was perfectly cooked inside, perfectly browned on the outside and each slice had a nice ratio of meat to stuffing. The stuffing was even more delicious when mixed with the lamb juices and I will definitely be adding this dish to my recipe file. The beans complemented the lamb nicely and were a bit plain, but I was hoping for that, since I really wanted the lamb to steal the show. What I didn't expect was that the asparagus would steal the show. I mean, it's asparagus. Actually the asparagus wasn't the best thing on the plate (the lamb was), but I think the guests were so shocked that the asparagus was good that they couldn't help but say something. My guess is that it was the mayonnaise. While herb mayonnaise is a grown up version of a dollop of mayo, it still resulted in the same child-like response: Asparagus is good with mayo!
For an accompanying wine, I opened the bottle that G & T brought: a Christian Moueix 2001 Merlot and a Zardetto Prosecco. It's good, not very expensive and you can find it almost anywhere. I serve it at almost every party I throw. I made G read the back of the bottle. Then I told the story I always tell, that no one believes: One time I had a bottle of Zardetto and was reading the back label. Instead of the normal story about the history of Prosecco, there was a story about a gnome; A gnome who went into the woods and found a pot of bubbly brew. The gnome fell into the pot and then there was some sort of moral to the story. It's a bit hazy because I was drinking at the time. I know that J read the story too, but she swears up and down that she doesn't remember, but I think she had more to drink than I did that night.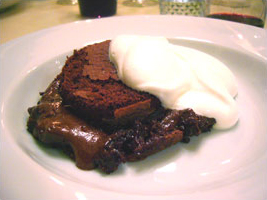 When we were ready for dessert, I put the cakes in the oven and in about 15 minutes we moved back into the kitchen for our last course. I think the cakes were a little too molten (i.e. not quite done), but I was hesitant to stick them back in the oven because the cakes aren't good when they're overcooked. I topped each cake with a dollop of lightly sweetened whipped cream and served them. There were groans all the way around the table, "This is too much", "This dessert is huge", "I'm too full", but the groans quickly turned ecstatic.
We served the wine that Joel recommended with the cakes. It was amazing. Like port but not as sweet and cloying. It was uncanny how well it went with the chocolate. Everyone agreed that it was the best wine pairing of the night (and they were all pretty fantastic). The cake was definitely the hit of the night and I noted that everyone practically licked their plates clean. Half the guests sheepishly requested more. I had made a double batch of cakes and there were several extras in the fridge so, ever the perfect hostess, I tossed the rest of the cakes into the oven with a smile.