One of the most difficult tasks of entertaining is figuring out where to put all the guests. This can be especially daunting when you have a small apartment and a kitchen nook the size of a breadbox. Over the years, I've learned to be creative and started asking friends to host shared parties—I do all the cooking, they provide the venue and we split the guest list and food costs. It's not only a great way to have a change of scenery, but it also results in meeting quite a few new people, which is excellent for my pyramid dining scheme master plan.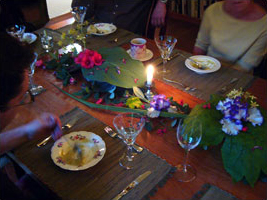 My friends Glenn Withey and Charles Price are the curators of the Dunn Gardens located in North Seattle. They live in a converted carriage house situated in a historic, residential Olmsted garden. I love co-hosting parties with them not only because it's such an idyllic setting, but also because I get to meet their interesting friends. The only downside is that Charles is a demi-vegetarian and doesn't do garlic. This can make menu planning a bit of a challenge.
My parties at Glenn and Charles' place always revolve around seafood. Recently, I had been craving Halibut Cheeks with Tarragon Beurre Blanc, which calls for garlic but I figured it would be okay to omit it. I had also been seeing a lot of pea-shoots on seasonal menus around town and thought they would be a perfect accompaniment, if I could find them. I also decided to make my mother's delicious Zucchini Bisque, which is elegant and easy to make.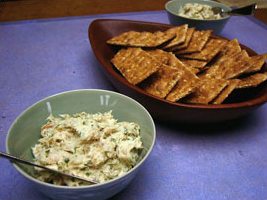 I noticed a green/herb motif starting to emerge, so I continued the theme into the appetizers—although my theme could just as easily have been butter, as almost every recipe contained copious amounts. Case in point: Smoked Trout Rillettes, made with smoked trout and lots of butter. It wasn't green or herby, but I figured I could add some chopped watercress for color. For the second appetizer, Glenn and Charles had been given three pounds of flash frozen spot prawns from Alaska and asked me to use them. This was the hardest recipe to pin down because prawns and garlic have a natural affinity for each other, but I concocted a decent sounding Shrimp Salad in Endive recipe from a few different sources. For dessert I wanted something I could make entirely ahead, so I picked a Marionberry Semifreddo Torte, which is very refreshing and delicious. After looking over the whole menu, I was concerned that it would be a little light and added in a cheese course between the entrée and dessert.
The morning of the party I headed down to the Pike Place Market to pick up ingredients. I started at Pure Food Fish Market to get my halibut cheeks, but was told that no one had halibut cheeks this week. Saddened, I begrudgingly bought orange roughy and hoped that nothing else would go wrong. I stopped at Sosio's (my favorite produce stand) and they told me that they didn't sell pea-shoots. The woman saw the look of panic creeping across my face and quickly pointed across the way, saying "Mr. Lee will have pea-shoots". I scurried across and sure enough, Mr. Lee had lots of pea-shoots. I told him I needed enough for twelve people and he suggested I get six bundles. They were giant, whole-head-of-lettuce-sized bundles and I protested that it was too much, but he adamantly told me I needed that many. I acquiesced and headed towards DeLaurenti lugging what felt like eight pounds of greens.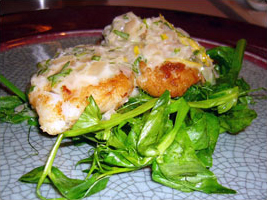 As I passed by Pike Place Fish Market I saw that they had an entire case filled with halibut cheeks! Usually I'm timid when it comes to stuff like this, but I was determined to have perfection and I went back to Pure Food Fish to try and return my fish. I asked one of the guys standing out in front and, avoiding all eye contact, he told me there was no way I could return the $60 worth of fish I just purchased. Frustrated, I walked past him and up to the counter and spoke to the guy who told me there were no halibut cheeks in the market. When I told him Pike Place Fish had lots of cheeks, he rolled his eyes at me. Undaunted, I asked again if I could return the roughy but he refused to answer me. I kept asking and finally he slammed my money down on the counter and I gave him back the fish. I figured he wanted me to feel guilty, but I was just relieved that I could get the ingredients I really wanted.
Normally I avoid Pike Place Fish like the plague, as I'm not a tourist and am not thrilled about having the fish I plan to eat hurled through the air, manhandled and bruised. I had to push through the circle of onlookers that always surround the perimeter of the store and it felt like I was walking up on stage. I asked for six pounds of halibut cheeks. Next thing I know the guy's yelling "BUTT CHEEKS FOR THE LADY," and then I hear it being echoed from all corners of the store as each employee yells out "BUTT CHEEKS". I'm shrinking away from the counter, feeling like every tourist has their camcorder pointed at me, whispering lewd comments about butt cheeks into their microphones. Sensing my embarrassment, the man at the counter gently handed me my package of halibut, thankfully relieving me from another round of yelling and the tossing of my cheeks from employee to employee, like a dreaded game of keep-away.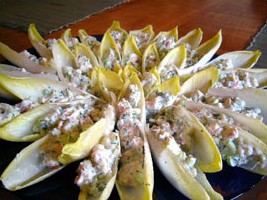 My final stop was DeLaurenti where I sampled a few cheeses for my cheese plate and settled on a creamy French Comte, a tangy Mirableu blue cheese and an earthy Brie de Meaux. I also picked up a loaf of Macrina walnut herb bread and a package of Gerard & Dominique smoked trout.
When I got to the Dunn Gardens a few hours later, Glenn handed me a simple white box containing the defrosted prawns. I opened it up and nearly cried because they were so beautiful. The prawns were a perfect pink color and were very plump—the kind of plump that comes from high quality, not preservatives. I poached the prawns in a rich broth made from the shells and created a salad that was spooned into the end of the endive leaves. The prawns were sweet and briny and by far the best I've ever eaten.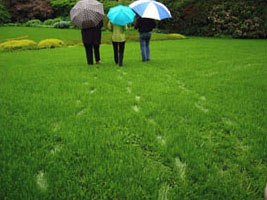 Around 5pm, the guests started showing up with wine and cocktails. It was starting to rain, but we pretended it was warm and sunny and made gin & tonics using the Hendricks's Gin that J brought. After a few drinks we decided to go on a garden tour, even though by now it was pouring down rain. Luckily, the Dunn Gardens are equipped with a selection of umbrellas for such occasions. The walk through the garden was stunningly beautiful and the greens were bursting with color. When we got back we sat in the "sun" room for appetizers and more cocktails. The rillettes was the perfect temperature—still cold, but soft enough to spread on the accompanying nutty Ak-Mak crackers. The shrimp salad in endive was gorgeous and tasted heavenly with the sweet shrimp contrasting nicely with the light artichoke-like flavor of the endive.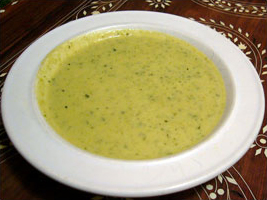 My original (sunny day) plan had been to serve the zucchini bisque cold like a vichyssoise, but the nice thing about this soup is that it's equally good served hot. I heated it up, added the final touch of cream and a pinch of truffle salt and served it in warmed, shallow bowls. Everyone (including myself) was stunned that vegetarian zucchini soup could taste that good—it was creamy and rich without being heavy and the onion and zucchini flavors shone through.
Halfway through the soup course, I excused myself to start on the fish. Earlier in the night a guest had commented on how brave I was to be serving fish since it's so hard to cook perfectly. This made me a little bit nervous—in addition to the little bit tipsy I already felt after all the gin and tonics, but it seemed hard to screw up halibut cheeks, as they are somewhat forgiving and their natural stringy texture can obscure small missteps in cooking. As I was cooking the fish, I also started sautéing the pea-shoots. I laughed as I watched them shrink from a pile of leaves spilling out of the top of my largest stock-pot to about three inches of greens. I silently said a thank you to Mr. Lee for his sage advice.
I plated the fish, which looked gorgeous perched atop the bright green pea-shoots on Glenn and Charles' lovely blue stoneware. It wasn't until I started eating that I realized I had forgotten to salt the pea-shoots. They were still good, but not nearly as good as they would have been with a sprinkle of salt (or cooked in chicken broth!). The halibut was thinly breaded and perfectly cooked and the buttery tarragon sauce was an amazing pairing. Even J, who swears she hates tarragon, was raving about the dish.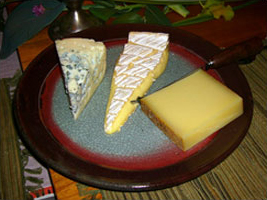 My friend R is a wine enthusiast, so I had asked him to bring some wines that would pair well with halibut… and tarragon—a little tricky since tarragon is such a strong and distinct flavor. R said he simply went to wineanswers.com, typed in tarragon and got a recommendation for Viognier. R picked out a "New World" Viu Manet Secreto 2003 Viognier from Chile and an "Old World" 2003 Texier Côtes du Rhone Viognier from Esquin Wines, which were both fantastic with the fish and sauce.
After dinner we retired to the sun room where I served the cheese course. I had let the cheeses sit out for about an hour and a half so they were the perfect temperature. I've always been a huge fan of Brie de Meaux so I eat a lot of it. I think this was what made me feel like it was a bit of a boring and mundane choice—even though it was delicious and mushroom-y. My favorite was the French Comte which was unbelievably rich and complex. My least favorite was the Mirableu, but only because it seemed a tad too overpowering with the rest of the selection.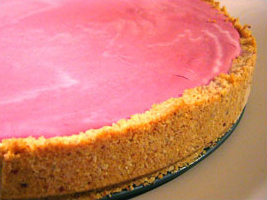 Last came the Marionberry Semifreddo Torte. Once it was served there was silence and all I could hear was the scraping of forks against plates. The semi-frozen marionberry custard was creamy, yet light in texture and was divine with the rich and buttery shortbread crust. I had made a 9 inch tart, which seemed like enough for 12 people, but we seriously could have gone through an entire second one; there were fights over who got the last piece.
I was exhausted and had to say my goodbyes shortly after dessert, but even still, I felt that this was one of the most successful parties yet. Almost everything was made ahead of time, so I got to spend a lot of time with the guests and all the courses were delicious and went extremely well with one another. There were many raves and exclamations over the food, so I'm hoping this means there will be return dinner invites extended soon.