The Vancouver eating trip begins!
We left Seattle fairly early and there was no traffic at all so we arrived at our hotel, the Vancouver Marriott Pinnacle*, too early to check in. We had some time to kill and were hungry so we consulted The List for something nearby. We walked up to Denman in the pouring down rain and ate at Banana Leaf, a Malaysian restaurant.
We ordered shrimp chips ($5 CAD) and roti canai with curry ($3 CAD) to start out. The shrimp chips were giant mutants compared to the ones my grandma usually makes. They were good, but I think they're best when pulled right out of the hot oil and eaten while still warm. I've never had pork rinds (gasp!) but this is what I imagine they taste like, only with pork flavor replacing the shrimp taste. The roti was good, a little greasy and oddly sweet in a good way, but the curry dipping sauce was just so so.
I ordered the chicken satay with gado gado ($7 CAD) and it was the best chicken satay I've ever eaten. It was PERFECTLY cooked, with a crispy outside and flavorful charred edges, but still very moist inside. The peanut sauce was great as well. A good balance of salt, sweet and crunchy peanut bits. Gado gado turned out to be a vegetable stir fry which was perfect with the rich peanut sauce.
Zach had the rendang beef ($6 CAD) and it was amazing. It was like a spicy beef stew, that's cooked all day (in a coconut milk based curry) so it's falling apart and tender. And then it's cooked some more so that it's almost dry and the flavor concentrates.
The place was so cute and cozy on a such miserable rainy day and we thoroughly enjoyed the experience. Our waiter was really nice (and funny); we asked about a shellacked thing on the shelf that looked like a lobster tail and received a dissertation on ling chi and its magical medicinal properties that our waiter swore by—it cures cancer AND makes you feel good!
Our bill came to $21 CAD, which we though was a great deal considering the quality of the meal—a very auspicious beginning to our eating trip in Vancouver.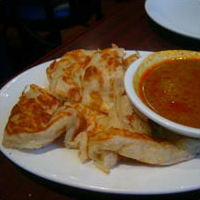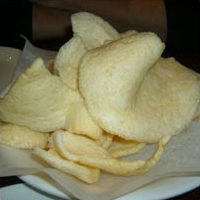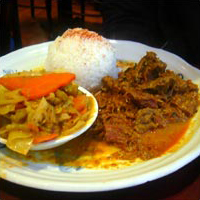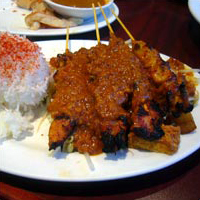 When we were thoroughly soaked and tired of wondering around in the rain we went back to the hotel to dry off and relax. I opened the bottle of Veuve Clicquot that I received for Christmas and the tin of white sturgeon caviar I brought from Seattle. The caviar was absolutely delicious—salty and perfect atop blini and crème fraiche. So decadent!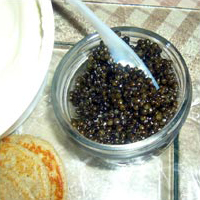 After the bottle of champagne and too many episodes of the Simpson's, we realized we were hungry again and headed out to Vij's, my favorite Indian restaurant. I think we arrived after 9pm, but there was still a wait. This was actually a good thing because they have a cute little lounge in the back of the restaurant where they serve nibbles while you wait. This evening it was hot cassava fries sprinkled with cayenne. They were crunchy, sweet and so addictive that I was almost sad when they told us our table was ready.
Zach and I were drooling over the menu when Vij came by to say hello and see what we wanted to eat. We couldn't decide between the quail cakes with celeriac puree ($10 CAD) or the lemon, cayenne pepper marinated and grilled sablefish in tomato-yogurt broth ($9.50 CAD) for an appetizer, so Vij set us straight and said to order the quail cakes. They were slightly gamey and crisp and perfect with the celeriac puree. Vij also brought us a complimentary sablefish appetizer so we could try it out. It was very good, spicy and bright with lemon, which was a nice contrast to the richness of the fish.
Zach ordered the grilled pork tenderloin stuffed with khoa and potatoes in porcini cream curry with spiced whole almonds ($24 CAD). It was rich and mildly spicy with many great flavors going on. After Zach finished telling me how amazing his dish was I bet him that mine was better. He accepted the wager and lost.
I had the beef short ribs in spicy cinnamon red wine curry with cauliflower & honey parata (like naan, but fried in oil instead of baked, $24 CAD). The beef was, again, falling apart tender and soaked in a beautiful red sauce. It was a little spicy, but also sweet which helped temper the heat. The dinner was completely amazing and seemed like a deal at $58 CAD. We were too stuffed for anything else so we happily went to bed without any dessert.
*A bit about the Marriott Pinnacle: It is definitely a business hotel and is smack dab in the middle of the business district, but we actually found the location to be very convenient. It was an easy walk to many of the restaurants we wanted to try and a quick drive to Stanley Park and the Lion's Gate Bridge. Our room was quite small and we didn't have a view, so I called down to the front desk to see if we could change rooms. There was a $30 CAD upgrade for a room with a view, but the receptionist politely told us that the weather was going to be awful during our entire stay and we wouldn't see anything but fog (and she was right). Normal rates at this hotel start at something like $160 CAD per night and I would not pay that much for this hotel. However, this hotel is a STEAL at the $55 US per night rate that I booked through Priceline.