We started off the night with a great dinner at Matt's in the Market—the perfect place to be on a cold and rainy Seattle night. It was warm and cozy at the bar, with a bird's-eye view of the 'kitchen'. We marveled at the fact that they can turn out so much food with two single burners and an oven.
We ordered the pan-fried smelt with bacon braised chard and garlic aioli for an appetizer. Mmmmm. The smelt was so crunchy and it paired wonderfully with the tangy and salty chard. Zach had the lamb shank with charmoula, which really was delicious, but I am so spoiled by my beef short rib recipe, that it didn't really compare. I had the pan fried trout with pancetta and calvados-braised lentils. I was a little worried that it would taste too much like the appetizer, but it was very different with sweet and fruity overtones. It was sooo good.
Then we dashed off to see Sedaris speak at Benaroya Hall. I laughed until I cried until I hit my head on the back of my seat from laughing so hard. He talked about monkey slaves and now I want one. I've decided I will teach my foster monkey to fry bacon in the mornings and take my cat for walks around the neighborhood while I'm at work.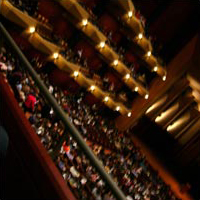 And though it seems like the night couldn't get much better, it did. We played some pool at the Nite Lite and then Zach schooled me at darts.
It was pretty late at this point, but we were getting hungry again and we weren't ready to go home. So we ended up at 13 Coins, where we talked to this guy in the lobby who was wearing the most unbelievably ugly Gucci shoes. (Just because something has Gucci logos all over it, doesn't mean you should wear it. In fact, it probably means you shouldn't.) Anyways, we got a great booth and split the believer, which my brother turned me on to. And, oh do I believe.