By our fourth day in Vancouver we were actually getting a little tired of eating out. We agreed to forgo The List and drive somewhere outside of downtown. We consulted the hotel guidebook and decided on Deep Cove because it promised a "cozy little seaside town" with "lots of great cafes".
We took the "scenic route" which ran along the water, but the scene was of huge vegetable oil processing plants. After a half hour of driving we arrived at Deep Cove. I think that the most important tidbit of information that the guide book left out is that coming here on a rainy day is basically pointless. It was absolutely pouring down rain and we could BARELY make out the small harbor and couldn't see anything beyond that. The "lots of great cafes" turned out to be a pastry shop, a pizza parlor, a sushi place and a bistro. Only the Arms Reach Bistro looked open so we went in but weren't expecting anything great.
The restaurant was very cheery and bright inside, despite the grey day, and I liked that they had blankets at every table so that you could stay warm. I ordered the BCLT ($11 CAD) which turned out to be a really good focaccia sandwich with salty bacon and great Canadian cheddar cheese. It came with a side salad that was shockingly good. So good in fact, that I actually wished I had ordered just a salad—and that's saying a lot because my sandwich had BACON in it. What made the salad so good was the kick ass tarragon yogurt dressing. I tried to finagle the recipe out of the waiter, but he was really vague and said it was "just tarragon, yogurt and maybe some lemon juice or something".
Zach had the Chad Salad ($9 CAD), which was also really good. It was a mixed greens salad with gooseberries, blueberries, cashews and a great balsamic garlic vinaigrette. We spent $20 CAD for a very good lunch, but I don't think I'd drive out there again unless it was a spectacularly sunny day.
After lunch we decided that no matter what we did we were going to get soaked and headed to the Capilano Suspension Bridge. Normally, I think this park would be packed, but our car was one of five in the vast, empty lot. We walked up to the ticket booth and found that they give a 20% discount on rainy days, which was good because it was way more expensive than I anticipated ($22 CAD per person), but it ended up being the best (non-food) thing we did on our trip.
We approached the bridge, each holding an umbrella, and looked across—I wasn't expecting it to be so huge. We tentatively stepped out onto the bridge and felt it shudder; you could feel every step and sway. About 1/3 of the way across, a little kid came barreling over the bridge, shrieking and jumping with excitement. It was cute for the two seconds it took for the motion sickness to hit us. Zach turned to me, pale white, and said he couldn't make it and headed back. We had a little pep talk and waited until no one else was on the bridge and then hurried across.
The other side of the park was amazing. It had absolutely beautiful walkways and decks with scattered seating in corners of the park—not very appealing on a rainy day, but I could have spent hours here if it was sunny. We picked a path to follow and came across an area that had white Christmas lights strung from the trees. On second look we realized that there was another walkway built into the tree tops. We continued on and came to a shelter area (complete with chairs and a potbellied stove) that lead up to the path in the trees. We were the only ones up there and it was breathtaking; walking among the misty tops of the trees on beautifully crafted pathways that were connected from tree to tree. Zach and I decided that this must be what it feels like to be an Ewok.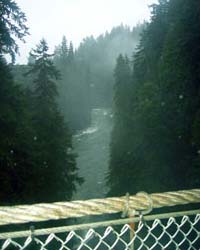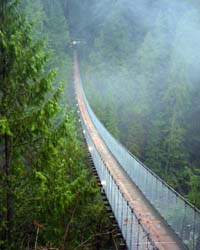 Later that night we had a reservation at Le Gavroche which was participating in Dine Out Vancouver—a promotion where restaurants serve a fixed price three-course dinner for $35 CAD.
We got to the restaurant and were seated in the lower room, which kind of looked and smelled like my grandma's basement. To make things worse, I noticed that the tablecloth had stains all over it and the glassware was less than clean. At this point, I was starting to have my doubts about this place. It was the second night of the Dine Out promotion and the staff looked harried. We found out that we were seated in the room that is normally used for wine tastings, so I suspected that they had overbooked reservations.
We looked over the promotional menu and it sounded really good, but there was also a four-course dinner available so we decided to get one of each in order to taste as many things as possible. The waiter talked up the paired wines (a different one with each course) and told us that they were not to be missed, so we ordered the matching wines as well. An entire hour after we arrived, our meal was served:
Three-Course Meal
Wild Boar Terrine with Onion Marmalade—This tasted very gamey and not very interesting. I was disappointed that all of the pretty sauces on the plate were just for decoration, as they didn't enhance the food at all. Unfortunately, this was to become a recurring theme.
Braised Venison Osso Buco with Port Orange Sauce—The venison was very tender but the sauce was lackluster, especially for a French restaurant, which I tend to hold to a higher standard when it comes to sauces.
Vanilla Crème Brûlée with Lace Cookie—Everything on this plate tasted burnt. Zach liked it, but he's crazy about Crème Brûlée or anything that contains caramel.
Four-Course Meal
Duck Rillettes—The duck was okay, but the dish was ruined with terrible stale, stale bread.
Frissee Salad—Zach pointed out that the salad smelled strongly of sweat. I tried to convince him that it was just the vinegar, but he was right; it did smell like sweat. This distracted from the taste, to say the least.
Pork Tenderloin with Trumpet Mushrooms—I liked this dish, but I was predisposed to like it since it contained trumpet mushrooms. Zach thought it was boring.
Profitteroles—This was my favorite course of the night. It had a nice pastry and was filled with delicious ice cream and topped with good quality, warm chocolate.
The whole meal with wines set us back $180 CAD, making it the second most expensive meal of our trip and by FAR the worst. We were really disappointed that this was our last dinner in Vancouver, but at the same time it also made us grateful that we were able to experience so much wonderful food prior to this.