We started off our third day in Vancouver in search of pastries and good coffee. We failed on the coffee end, but we found some damn fine pastries at Bon Ton Pastry on Broadway. I don't generally visit pastry stores so when I do, I kind of go nuts. There's something about seeing all those delicate and flaky morsels lined up in neat little stacks and rows that really gets to me. I bought a delicious palmier, brioche, a jam pastry, sausage puffs, an éclair, a dozen cookies, a bag of shortbread (for my mom) and a bag of pastry cheese twists. There was a seating area in the back, but you had to order something from the cafe menu, so we just sat in the car and tore into the bags like children eating Halloween candy.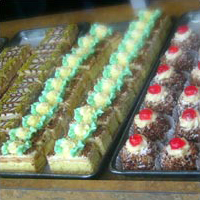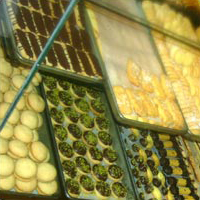 After we got rid of all the crumbs we went looking for a record store that Zach wanted to check out, but ended up lost on the UBC campus. I'd always wanted to go to the UBC Botanical Gardens, so I convinced Zach to stop since we were already on campus. It's not exactly the best time of year to tour a garden and we didn't realize they had a Winter garden until after we finished exploring the grounds. It was still a nice walk and I really liked the food garden even though everything was dead except for the heartiest of kale and Brussels sprouts. The garden layout was great and they had beautiful, beautiful espaliered apple and pear trees in all kinds of crazy patterns and shapes—even a square box!
By the time we left the garden and found the record store it was getting late, but we decided to hit Sun Sui Wah Seafood for a late dim sum lunch. When we got there they had stopped serving via the carts, but you could still order from the kitchen.
We ordered the "world famous" roasted squab because it was listed as a house special and the picture on the menu was awesome—a whole fried bird with the head attached and everything. We were disappointed when it came out chopped into pieces. I was even more disappointed when I tasted it. It was way too gamey and tasted like liver (more so than it should), plus the sauce and salt that came with the roasted squab were really awful.
From the dim sum menu we ordered honey and garlic fried spare ribs, hum bow, ha-gow (shrimp balls), shu-mai (meat dumplings), sticky rice and sesame seed balls. Everything was okay, but strangely lacking in flavor. Only the ha-gow were great—they must have used really fresh and well-cleaned shrimp because they didn't have that musty taste that you sometimes get with shrimp balls. I also liked the sweet and flavorful red sauce that accompanied the dim sum. It was slightly hot and made the otherwise dull tasting food a little more exciting. I noticed that there weren't any of those little gristly bits that you usually come across in dim sum. Normally I would think that is a good thing, but this meal left me wondering if the gristle actually adds flavor. At $43 CAD this was our most expensive lunch and also the most disappointing.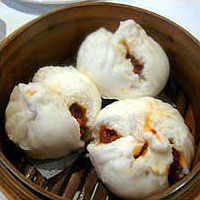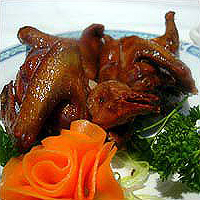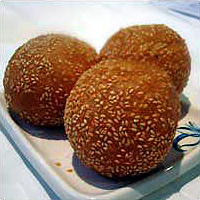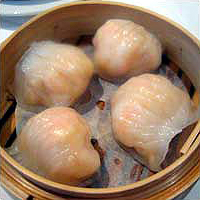 Later that night we had a reservation for Tojo's which I, sadly, wasn't looking forward to because I was feeling a little sick from lunch. Also, I had tried Tojo's about three years ago and was very disappointed. But Zach loves Tojo's and he convinced me to give it another chance.
I had made special reservations to sit at the omakase bar where Tojo asks you what you like and then gives you a coursed menu according to your tastes. The bar was jam packed, but also kind of cozy and made us feel like we (and the sushi chefs) were the only ones in the restaurant. It also had great overhead lighting, which assisted me in my obsessive photo taking. (Zach is such a good sport for letting me take pictures of every meal we eat. Most people are not so accommodating or just think I'm weird.)
We heard that it's customary to buy Tojo a beer, so we talked to a waiter who informed us that Tojo likes Sapporo. Apparently when you buy Tojo a beer you are actually buying all the cooks a beer, so I was a little startled and amused when the whole kitchen staff rushed out shouting "Kampai!".
Sashimi Salad—An absolutely gorgeous "salad" served in a large bamboo bowl. Very, very, very delicious tuna with a perfect balance of soy, scallions and just a hint of heat.
Breaded Shitake—A shitake mushroom with the bottom side encrusted in golden breadcrumbs, set in a sauce similar to what you get with tempura. I really enjoyed this dish and am going to try and recreate it at home.
Steamed Sablefish—A nice cut of sablefish stuffed with mushrooms and steamed in a clear broth. The fish was a little rich for me, but I thought the broth was great. The best thing about this dish was its beautiful presentation. The bowl came out covered with a sheet of paper, tied up with raffia and garnished with a lime wedge and pine needles that you opened like a present.
Crab Sushi—The sushi was rolled in a crepe-like wrap and topped with bright orange tobiko. It was very light and not extremely flavorful.
Toro Sushi—A large slice of the fattiest tuna I've ever tasted. It was good, but so rich and akin to eating straight animal fat, that I think it may be an acquired taste.
Avocado Sushi with Scallop—This was my favorite. I love raw scallops when they are perfectly fresh. The sushi had a wonderful mouth feel with the soft, creamy scallop and crunchy, salty roe.
Rainbow Eel Roll—This roll had grilled eel on the inside and alternating strips of salmon, tuna and tamago on the outside. It was very pretty and fresh, but I wanted the taste of the eel to come through a little more than it did.
Tempura Prawn & Yam Roll with Avocado and Pineapple—I hated this. The sweet pineapple seemed really out of place to me. Even when I poked the pineapple pieces out, the sushi tasted boring and chewy because of the undercooked yam. Strangely enough, this was Zach's favorite.
Dessert—A simple glass of homemade ice cream topped with some sort of sweet cream and a berry sauce. Good, but not outstanding.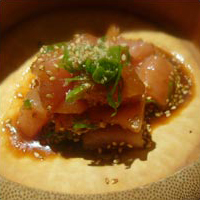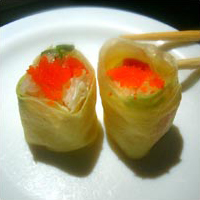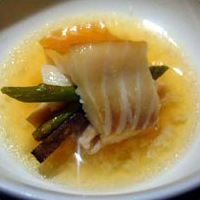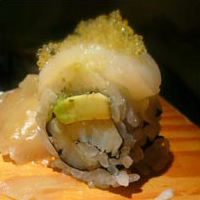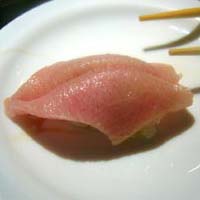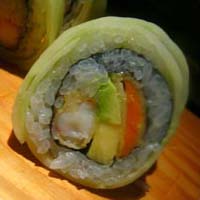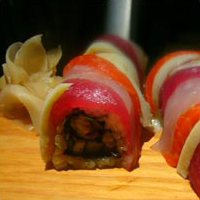 Only three of the nine dishes really wowed me, so the cost of $200 CAD (including three Sapporo beers) seemed outrageous. I would have much rather had two more dinners at Lumière or three more at Vij's. I am sure to get hate mail for saying this, but I'm going to say it anyways: Tojo's is overrated.