This was a recipe from "My Molecular Cuisine Kit", which involved heating honey with some water and agar agar. Within seconds of taking the honey off the heat there was a swarm of crazed bees outside my door trying to get in. I never really knew what was behind the saying "make a beeline", but now I understand.
The recipe said to drop the honey mixture from a pipette into a very cold container of grapeseed oil. We tried this over and over again, even adding more agar agar but unlike water and oil, honey and oil really do seem to mix.
We totally scrapped that recipe and at T minus 30 (T being party time) went hunting for a different one. My friend found this one and disaster was averted. It was a more traditional spherification technique using the combination of sodium alginate and calcium chloride to form the gel-like skin upon contact of the two ingredients. This time when we dropped the honey mix from the pipette beautiful little pearls formed. Because we didn't have time to let the mixture set, ours were a little on the opaque side, but I kind of liked that.
The Camembert and a goat cheese brie were baked at 350° until the cheese started to ooze out. The combination of crusty French bread, gooey cheese and the delicate, clean burst of honey when the pearls popped was delicious.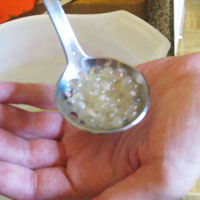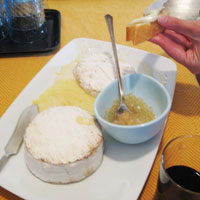 See Molecular Gastronomy Party for the complete menu.