For the third course I wanted to make the infamous pea "ravioli". Unlike the mint spheres, the pea ravioli were free form… and VERY hard to make into perfect spheres. If I put the teaspoon into the calcium bath it glommed onto the spoon. A fast drop from above the water wasn't much better as it turned into spaghetti-like strings. A slow pour was the closest we came, but they were still misshapen blobs with tails (most of them were shaped like sperm).
To spice them up, I spiked the water bath with truffle oil, but the truffle flavor didn't come through enough. They needed more salt and more… something. One guest had a brilliant suggestion of making them (next time) with tarragon.
So even though they didn't taste too exciting, it was a very cool sensation biting into the "ravioli" and having them burst open.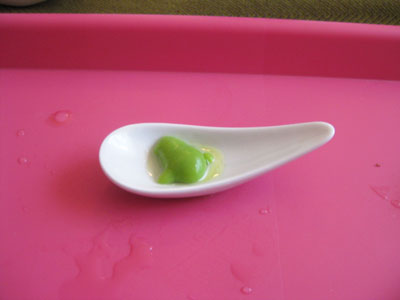 See Molecular Gastronomy Party for the complete menu.