Next up was a "greens" course. I wanted to make the asparagus with the soft poached egg recipe from Momofuku
, but with a lemon-based sauce.
For the eggs I used my broken sous vide machine to monitor the water temperature and perform water circulation, but had to use a burner on low with an improvised heat diffuser made out of tinfoil for the heat. With this setup I could keep the eggs at 145° F for 50 minutes to soft-poach them in their shells.
I brought out a platter of asparagus roasted with olive oil and julienned mint and bowl of what looked like raw eggs and had everyone plate their own dish. I got some confused looks from guests wondering about the eggs, and loved the surprised and gleeful looks when they cracked them open to find a perfectly poached egg. Kind of like performing a magic trick.
The final addition was a lemon & mustard emulsion (see recipe below) that used xantana for a thickener. It was a gorgeous, viscous sauce that had body and a great savory lemon flavor. This might have been my favorite dish of the night and I would definitely make it again.
Some of the fire happy people finished off their eggs a bit more with the blow torch.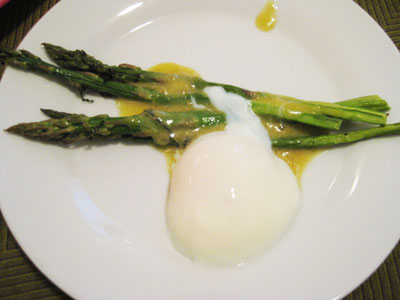 Lemon & Mustard Emulsion
.5 grams xantana
1 cup olive oil (use a good quality one with a somewhat neutral flavor)
4 T water
1/3 cup mustard (again, use a really nice mustard)
1 T lemon juice (or more to taste)
zest of 1/2 a lemon
Add all ingredients to a bowl and whisk vigorously, or use an immersion blender. Will keep several days in the fridge.
See Molecular Gastronomy Party for the complete menu.