consumed 11/22/12
A week before Thanksgiving my brother and I were still trying to figure out what to cook. Then he came across McSweeney's Thanksgiving Gallimaufry–a collection of decidedly non-traditional Thanksgiving recipes.  (I had to look up the word "gallimaufry" and it's now my new favorite word. It means "A confused jumble or medley of things.")
The final menu:
Corn with Miso Butter & Bacon – I wasn't sure about this dish, as the recipe was written in haikus and was confusing to follow. But it turned out great and was a nice change from creamed corn.
Chinese Broccoli with Garlic & Chorizo – This was less of a recipe and more of a suggestion. How can you go wrong with Spanish chorizo as an ingredient?
Charred-Scallion Sour Cream & Garlic Confit over Duck Fat Roasted Potatoes – An extravagant departure from scalloped potatoes. This was delicious but we messed up on the temperature and the dish was served on the cold side. The bites with garlic confit cloves were the best.
Cornbread Stuffing – The was fairly straightforward and was one of the best stuffings I've had.
Biscuits w/ Butter – Oddly sweet biscuits that didn't rise, but tasted great.
Burnt Miso Butterscotch Topping – This was a bit strange. I'm not sure I could get over the fact that I was spooning miso over ice cream.
The "Chinese turkey" recipe in the booklet was actually a duck so we decided to go traditional. I used the tried and true Roast Crisped-Skin Turkey with Giblet Gravy from Cooks Illustrated. Delicious, as always.
We also added in MFK Fisher's petits pois a la francaise from How to Cook a Wolf. Ridiculously simple, but oh so good and buttery.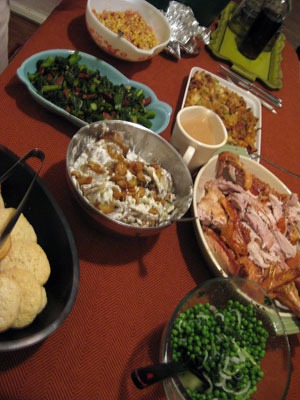 We made all this food for only four people. The leftovers were insane.