The duck course was next (I know it's not really a thing, but it should be)…
Of all the recipes I researched for this party the arugula "spaghetti" sounded like the most fun to make. The arugula was pureed with water and agar agar and sucked into a tube with the aid of a syringe. The tube was then put into an ice bath to firm up. Once firm, the syringe was depressed and out shot the most beautiful, brilliant green "spaghetti" (video here).
I wanted to test out my new sous vide machine and make duck confit. Long story short, the machine broke and I had eight duck legs sitting in tepid water overnight. Not good. Amazon to the rescue… I actually bought canned duck confit online (Rougie Confit of Duck Legs, 4 legs, 53oz) and it turned out to be the best confit I've ever had!
The spaghetti honestly didn't taste like much, but guests loved the rich, silken duck meat; even those who didn't like duck were converts.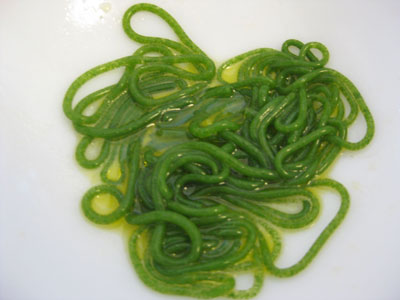 See Molecular Gastronomy Party for the complete menu.