For the fourth course I wanted to use an avocado foam, which I've made with success in the past. I decided to pair it with polenta and make a kind of deconstructed nacho. I prepared the polenta, but didn't want to stir it for an hour, so I mixed it with a good salsa, poured it into individual ramekins and baked it in the oven. This didn't turn out so well as the polenta didn't cook all the way through and was extremely dry.
For the second layer I put down some shredded cheese and had guests take turns with the blow torch to melt the cheese. I quickly made the avocado foam, but added too much milk and there wasn't enough fat to create a good, thick foam. So the third layer ended up being a watery, anemic mess.
Not a good tasting (or looking) dish, but the blow torch part was definitely a success; all the guests came running to look once they heard the deep whoosh of the butane start.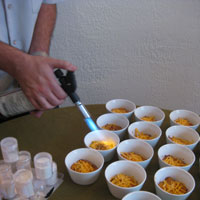 See Molecular Gastronomy Party for the complete menu.